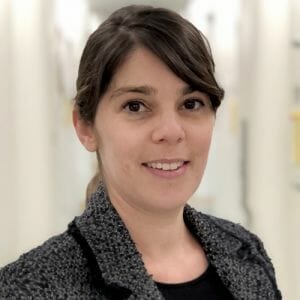 Associate Professor, Department of Biology and Institute for Stem Cell Biology and Regenerative Medicine, Stanford University
Investigator, Howard Hughes Medical Institute
Research Interests: Coronary vessel development, repair, and regeneration: 1) Whole organ imaging and blood flow modeling 2) Single cell analyses of endothelial cell fate 3) evo/devo—environmental and physiological influences on vascular biology
NAVBO Activities: Member since 2007; Councilor 2018-2021; Co-organizer, Vascular Biology 2020; Organizer, Vascular Biology 2023; Active participant in Vascular Biology and IVBM meetings as attendee, speaker, round table moderator, and session chair. Co-organized meeting Workshops—Whole Organ Imaging at VB2019 and a 2-part Communications Workshop at VB2021. Co-Editor, NAVBO Frontiers Topic. Judah Folkman Award recipient 2020.
Related Experience:  Chair, PhD Admissions Committee (worked with Diversity Officers to develop data driven rubrics and assessment pipelines for increasing representation); Co-PI for NHLBI grant supporting Stanford Cardiovascular Research Institute Summer Research Program (provides underrepresented non-Stanford undergraduate students experience in cardiovascular research); Workshops: (1) VB2019 Whole Organ Imaging and Light Sheet Microscopy (included LS demo) (2) VB2021 2-part Communication sessions (broadening impact/engagement and interactive session for trainee "elevator pitches"); Co-Editor: (1) NAVBO Research Topic with Frontiers in Cardiovascular Medicine "Single Cell Analysis: Advancing Vascular Biology." (2) CSHL press "Stem Cells: From Biological Principles to Regenerative Medicine."; Conference planning: NAVBO VB2021, NAVBO VB2023. Program Committee, Society for Developmental Biology 2022
Vision for NAVBO
I have been a vascular biologist for the last two decades. My fascination with this field started during my PhD training when I began exploring how the placenta incorporates into the uterine circulation during pregnancy and induces lymphangiogenesis. This led to a vascular biology Postdoc studying development of coronary vessels in the heart, which I continued in my own group. This year, our lab is celebrating 10 years of investigating coronary development, repair, and regeneration. Throughout this time, NAVBO has been integral to my education and career, supporting me and my trainees. I would welcome the chance to pass these same experiences and benefits to others as the next President.
My vision for NAVBO takes inspiration from thoughts about the past, present, and future.
Contemplating the past: I have always enjoyed the creative side of science and believe it is the key to success—designing clever experiments, uncovering new biology, communicating in a clear and visually stunning manner. Creativity and innovation are often triggered when your brain is exposed to a new way of thinking. I propose to intentionally incorporate creative sparks into our meetings, online content, website, etc. One example is to invite speakers from outside our field (scientist/illustrator/speech writer) to incite new ideas and novel ways of communicating effectively. Meeting Workshops are another venue where this cross-pollination can happen. Subjects such as creating visual summaries or website-based communication would benefit both early career scientists on the job market and those with established labs. Injecting new and engaging activities can inspire our scientific questions and experimental approaches.
Movements of the present: Just as experimental techniques improve over time, so should our mentoring and recruiting strategies. Academia is currently facing changes accelerated by the pandemic, calls for greater representation, and a growing number of career options. There is a movement—often trainee led—for a more nuanced approach to mentoring and recruitment at all levels. I have had the opportunity to engage in data-driven mentorship and anti-bias courses that have enhanced my relationship with trainees and led to improved recruitment procedures (e.g., Mentoring Across Difference, Culturally Aware Mentoring, Beyond Bias: Fair and Inclusive Hiring, etc.). As president, I will curate key points from these mentoring/recruitment resources to share with members and provide venues, such as meeting workshops, for discussing the data and strategies. The goal is for NAVBO members to contribute to a more satisfied, productive, and diverse science workforce.
Looking to the future: Like many fields, we have a representation problem in vascular biology, and the gap widens at senior and leadership positions. One way to address this is to engage future scientists at an early stage in their career, starting at the high school and undergraduate level. My lab is deeply involved in undergraduate summer research programs that provide underrepresented students from outside Stanford research experience. I will support the efforts already in place at NAVBO and brainstorm new ways of enticing future scientists to the field of cardiovascular biology.
Ideas are easy to generate, but putting them into action takes time and dedication. As President, I will continue my track record, both outside and within NAVBO, of organizing programing that will guide our members into the exciting future of vascular biology.