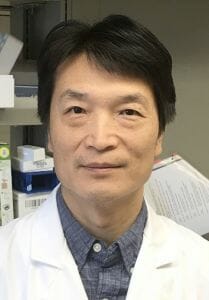 Lian-Wang Guo, Ph.D.
Professor
University of Virginia
Research Interests: Current treatments for cardiovascular diseases are limited by the lack of understanding of not only intervention targets but also targeting methods. My lab tries to tackle this issue via a two-pronged approach. Through mechanistic studies, we are assessing some chromatin modulators, especially histone mark readers, as potential novel molecular targets. Meanwhile, we are inventing nano-based new platforms and modalities for localized and targeted therapeutic delivery. We envision that the synergy in these endeavors should accelerate the development of better treatments.
NAVBO Activities: NAVBO member since 2018; Gave an oral presentation at Vascular Biology 2019 – NAVBO. Oct 27, 2019, Monterey, CA, USA; Mentored Dr. Jing Li in my lab to win the Outstanding Poster award at the international meeting of Vascular Biology 2020 (NAVBO, virtual); Served as a poster judge for the NAVBO Vascular Biology meetings, in 2020 and 2021.
Related Experience: Associated Editor, Frontier in Vascular Medicine ISSN: 2297-055X; The lead guest editor for Genes (ISSN 2073-4425), initiated the special issue "Ophthalmic Genetics, Epigenetics and Disease;" Served at the NIH R24 review meeting in 2022, NIH Special Emphasis Review Panel for Fellowships for 4 consecutive years, and the American Heart Association grant review meeting in 2022.