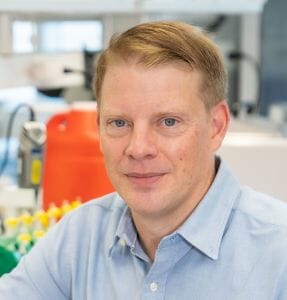 Scott Johnstone, Ph.D.
Assistant Professor
Virginia Tech, Fralin Biomedical Research Institute
Research Interests: large vessel disease, smooth muscle cells, endothelial cells, macrophages, cell signaling, gap junctions, pannexins, cell proliferation, inflammation, vascular healing
NAVBO Activities: NAVBO Member since 2020; attended 2022 NAVBO meeting and co-chaired a session at this meeting; attended several NAVBO online seminars. My graduate student Meghan Sedovy attended Vasculata and presented virtually at the 2021 NAVBO meeting, and at one of the online seminars. My new post-doctoral researcher that will attend the 2023 Vasculata meeting.
Related Experience: I have been a co-editor for the Journal of Vascular Research (JVR) since 2020. I have organized several national and international meetings including the International Gap Junction Meeting (IGJM) in Glasgow, Scotland in 2017. I co-chaired a session at the IGJM in 2022. I have initiated and organized our Centre for Vascular and Heart Research Symposium at the Fralin Biomedical Research Institute, https://fbri.vtc.vt.edu/research/research-centers/center-for-heart/symposium.html. This is an annual meeting in its second year that aims to increase interactions and collaborations with cardiovascular researchers and clinicians in the Mid-Atlantic region. I am a member of the American Heart Association and have served on several study sections for the last three years, primarily the career development awards, but also on others.