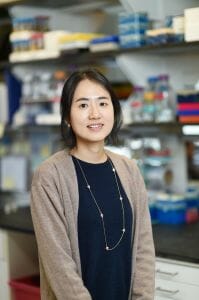 Minah Kim, Ph.D.
Assistant Professor
Columbia University
Research Interests: The research in my lab is broadly focused to understand how vascular abnormalities contribute to disease progression and drug resistance in diverse pathological conditions, including cancer. Specifically, we aim to determine 1) the role of vascular abnormalities in T-cell exclusion and resistance to immunotherapies; 2) the mechanisms underlying organ-specific vascular destabilization during disease progression; and 3) the potential of circulating vascular factors as predictive/prognostic biomarkers in cancer patients.
NAVBO Activities: NAVBO Member since 2021; Since joining the faculty at Columbia University, my opportunities to attend external meetings and participate outside activities have been limited due to the ongoing pandemic. However, I was fortunate to attend IVBM 2022, held in San Francisco, as my first in-person meeting since the pandemic began. At IVBM 2022, I had the opportunity to present my abstract.
Related Experience: Served as a guest editor for Oncology in International Journal of Molecular Sciences (IJMS) and led the special issue named "Targeting Tumor Angiogenesis and Metastasis".