Student Memberships are available for those who identify with a group that is underrepresented in vascular biology.
NAVBO is providing a funding platform to support diversity and inclusion efforts in the vascular biology community at the undergraduate and graduate student career stages.
The North American Vascular Biology Organization (NAVBO) provides a forum whereby members disseminate and share information related to the scientific field of vascular biology, ensuring the translation of knowledge from basic science to clinical practice. NAVBO supports and organizes meetings, workshops, online events and maintains a website linking the vascular biology community. We actively recruit trainees as members and support their growth and career.
We would like to increase diversity and inclusion within the vascular biology community, expose more young scientists to the field of vascular biology, and bring more trainees into this collaborative community. Therefore, we are extending this offer of free membership to students who are members of populations that are not well represented in vascular biology, including but not limited to Black/African American, Latinx/Hispanic, Indigenous Peoples of America/Native American (including Native Hawaiian and Alaskan), and LGBTQ+.  We would also like to extend this offer to students who may be at a financial disadvantage and would benefit from this opportunity.
In order to take advantage of this offer, complete this application form. Students will need to upload their CV and a letter from their supervisor, confirming their status as a student.
TRAINEE AWARDS AT VASCULAR BIOLOGY 2021
NAVBO will present awards for outstanding talks by trainees (students and postdocs) and outstanding ePoster awards for their presentations at Vascular Biology 2021
NAVBO will present up to eight Outstanding Talk Awards and an award for Best NanoTalk
The Awards will be based on the presentations.
Criteria:
You must be a trainee member of NAVBO (your CV is required during the membership application process)
You must submit an abstract to Vascular Biology 2021
You must indicate on the abstract submission form that you want to be considered for a NAVBO Trainee Award
Only students (medical, graduate and undergraduate), post doctoral fellows and the equivalent are eligible. You must still be in this position at the time of the meeting (October 2021)
ePoster presentations are only eligible if the audio narration is included
Recipients will be announced just before the Benditt Award Lecture (November 2) and the Folkman Award Lecture (November 4).
POSTER AWARD RECIPIENTS FOR VASCULAR BIOLOGY 2020
Johnathon Aboul-Fadel, Texas Tech University Health Sciences Center El Paso
Mabruka Alfaidi, LSU Health Sciences Center - Shreveport
Kevin Boyé, Yale University
Randa Breikaa, Nationwide Children's Hospital
Nicholas Chavkin, University of Virginia
Vanessa Coelho-Santos, Seattle Children's Research Institute
Sarah Colijn, Washington University in St. Louis
Rolando Cuevas, University of Pittsburgh
Kristofor Glinton, Northwestern University
Jessica Hensel, University of Connecticut Health Center
Xuechong Hong, Boston Children's Hospital
Harish Palleti Janardhan, University of Massachusetts
Alexandra Kaloss, Virginia Tech
Gaganpreet Kaur, LSU Health, Shreveport
Matthew Kleinjan, University of Illinois at Chicago
Molly Kulikauskas, University of North Carolina at Chapel Hill
Jing Li, University of Virginia
Marwa Mahmoud, The City University of New York
Allison Martinez Mejia, Florida International University
Emily Meredith, University of Connecticut Health Center
Sanjeeva Metikala, Cincinnati Children's Hospital
Takehito Okui, Brigham and Women's Hospital
Claire Ozber, University of Leeds
Daniella Rogerson, Columbia University
Michael Schonning, Rutgers University
Sarah Shelton, Massachusetts Institute of Technology
Justin Van Beusecum, Vanderbilt University Medical Center
Marina Venero Galanternik, NICHD, NIH
Meng Ling Wu, Oklahoma Medical Research Foundation
Xingyan Zhou, Tulane University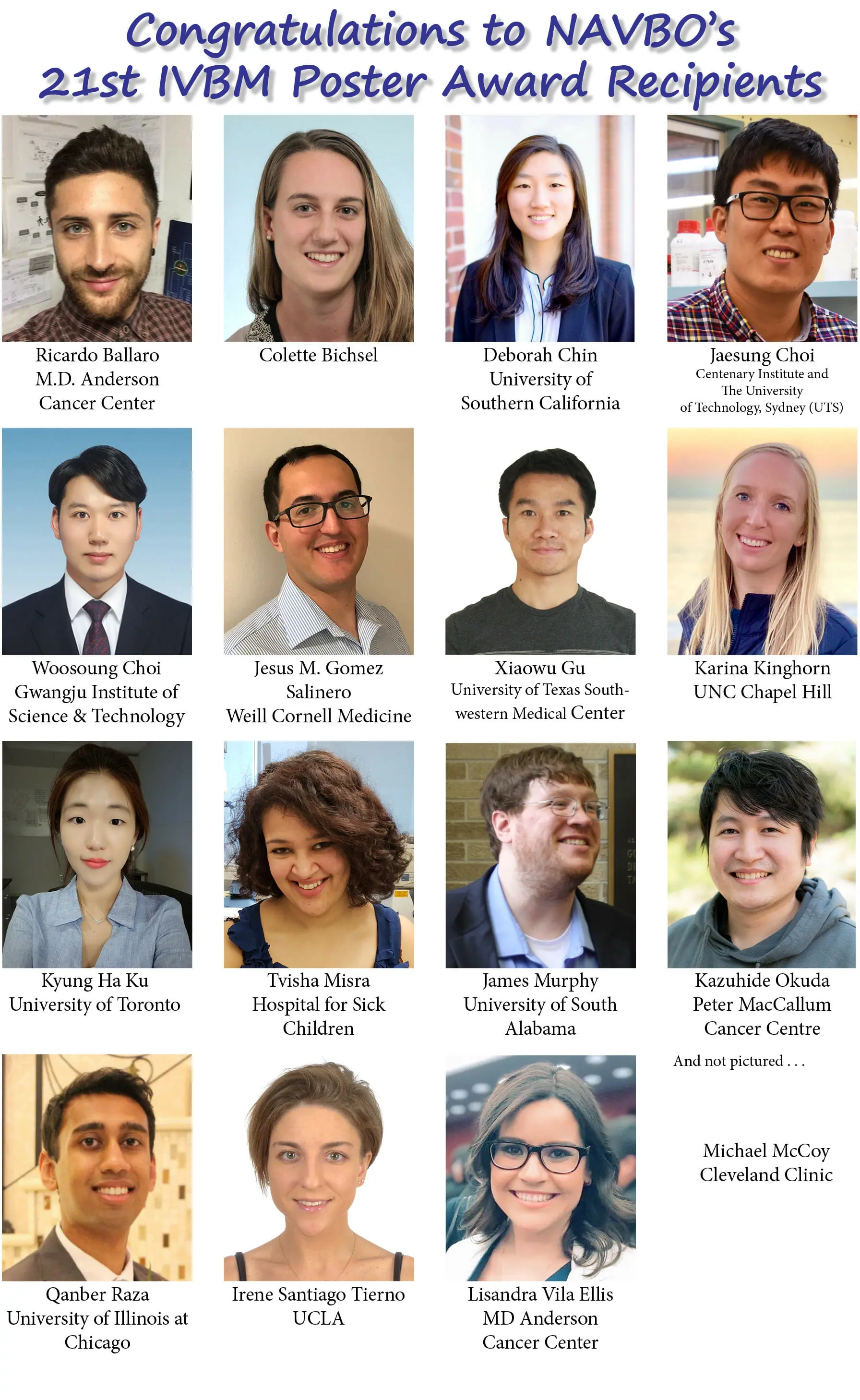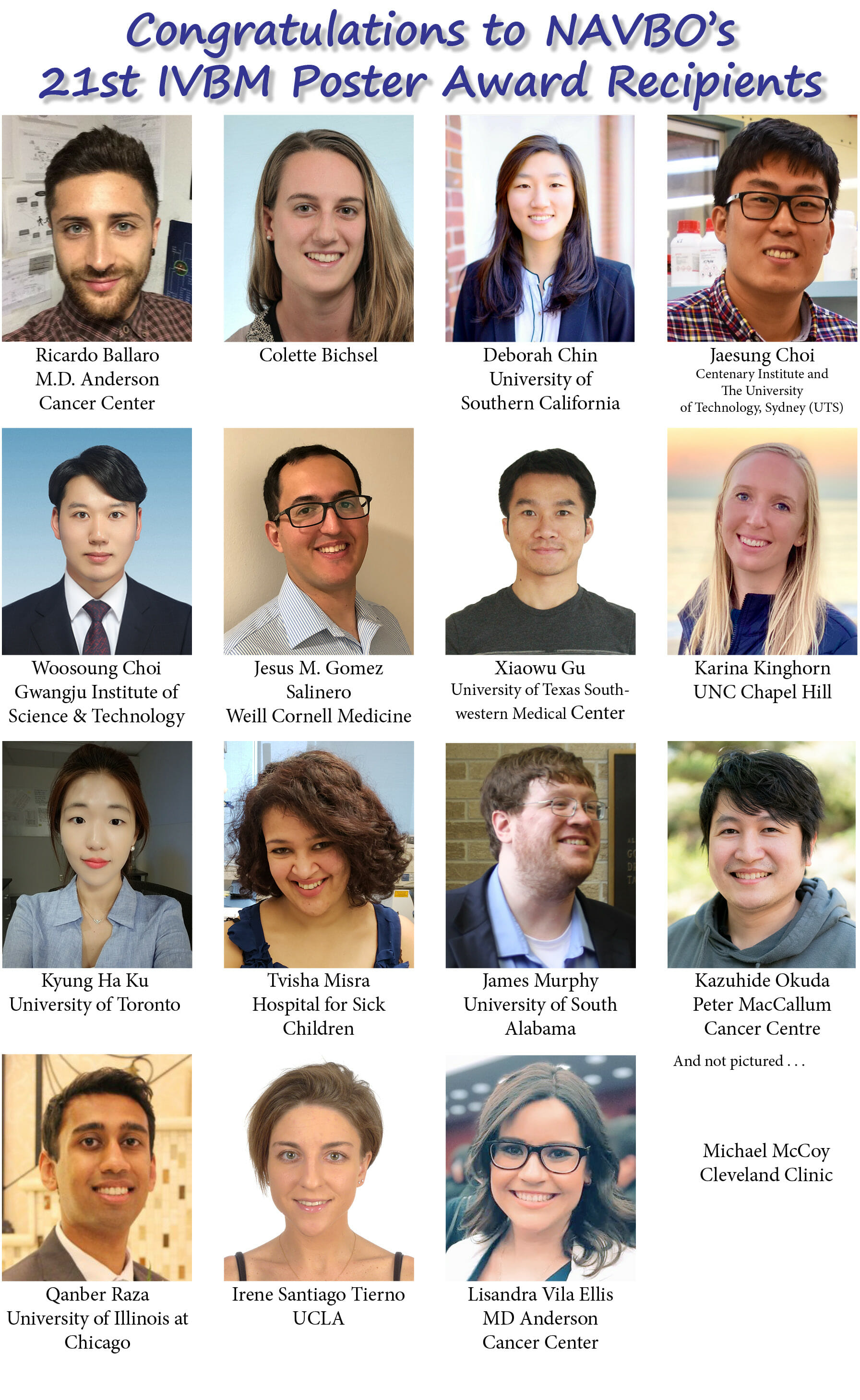 Vasculata Scholarships will be available to assist attendees in need of funding.  More information will be available in January for the 2022 Vasculata.
From time to time, NAVBO provides Travel Awards to our Trainee members to attend other meetings including certain Gordon Research Conferences, the Gulf Coast Vascular Research Consortium and others. When awards are available, information will be included here and in the NAVBO NewsBEAT.