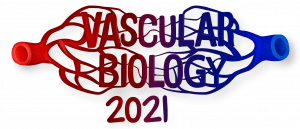 Online from October 25-29, 2021

Register online through October 29
Guest Society: The Microcirculatory Society
MCS sponsored sessions:
Microfluidics
Developmental Dynamics of Adult Microvasculature
Organized by Jerome Breslin, University of South Florida
Keynote Lecture by Mary Dickinson, Baylor College of Medicine
Plumbing the embryo: Genetic and mechanical mechanism needed for early blood flow
Workshops:
Organized by Courtney Griffin, Oklahoma Medical Research Foundation
Co-organizers: Mark Majesky, University of Washington and Kristy Red-Horse, Stanford University
Heterogeneity of the Vasculature
New studies on the role of pericytes in physiology and disease
Christer Betsholtz (Uppsala University)
Deciphering the transcriptional basis of organ-specific endothelial specialization
Josh Wythe (Baylor College of Medicine)

From Screens to Genes
New regulators of lymphangiogenesis from single cell profiling and functional screens in zebrafish
Ben Hogan (Peter Mac, Australia)
The hidden life of mRNAs: a non-coding role as sensors of cell environment
Stefania Nicoli (Yale University)
Clonal Expansion of the Vasculature
Vascular smooth muscle cell plasticity in health and disease
Helle Jørgensen (University of Cambridge)
Epigenetic-mediated Notch pathway activation promotes elastin aortopathy
Daniel Greif (Yale School of Medicine)
Neurovascular Development
Neuro-vascular interactions in the brain
Chenghua Gu (Harvard Medical School)
Blood Vessel and Lymphatic Malformations
Insights of PIK3CA-related vascular malformations
Mariona Graupera (ICO, Spain)
The RAS signaling pathway and lymphatic malformations
Michael Dellinger (UT Southwestern)
Metabolic Requirements for Vascular Development
Smooth muscle cell metabolic response to vascular injury
Nicholas Sibinga (Albert Einstein College of Medicine)
Metabolic crosstalk in the muscle microenvironment
Katrien De Bock (ETH Zurich)
MCS Session: Developmental Dynamics of Adult Microvasculature
Structural plasticity of brain pericytes and its relation to capillary function
Andy Shih (Seattle Children's Hospital)
Age-related changes in the bone microvasculature
Rhonda Prisby (University of Texas at Arlington)
Organized by Christopher Breuer, Nationwide Children's Hospital and Linda Demer, University of California, Los Angeles
Co-organizers: A. Wayne Orr, LSU Health Sciences Center Shreveport and Ying Zheng, University of Washington
Vascular Matrix in Disease
Sickle cell disease causes accelerated elastin and collagen remodeling in large arteries
Manu Platt (Georgia Tech)
Localized elastin defects and aortic stenosis
Jessica Wagenseil (Washington University in St. Louis)
Matrix Engineering
Bioengineering Strategies to Engineer the Microvasculature
Ngan Huang (Stanford University)
Loss of matrix-cell interactions and aortic dissection
Hiromi Yanagisawa (University of Tsukuba, Japan)
Patterning and Morphogenesis
Forces and flows during vascular morphogenesis in the developing lung
Celeste Nelson (Princeton University)
Engineering functional human blood vessels from pluripotent stem cells
Josef Penninger (University of British Columbia)
Biomaterials and Vascular Therapeutics
Mechanobiological Enhancement of Stem Cell Therapies for Vascular Regeneration
Aaron Baker (University of Texas – Austin)
Inflammation, blood flow dynamics and the design of vascular-targeted drug delivery vehicles
Lola Emiola-Adefeso (University of Michigan)
MCS Session: Microfluidics
Pericytes in Vascular Development and Maturation
John Chappell (VA Tech) 
Recapitulating the regenerative environment
Sharon Gerecht (Johns Hopkins University)
Matrix in Vascular Calcification
DDR1 senses matrix stiffness to promote vascular calcification
Michelle Bendeck (University of Toronto)
CD73, adenosine, and vascular homeostasis: Insights from rare disease
Cynthia St. Hilaire (University of Pittsburgh)
Systems Biology and Modeling
Rethinking VEGFRs: new insights in localization, binding, and signaling
Princess Imoukhuede (Washington University )
Agent-based computational modeling of the multi-cellular drivers of fibrosis
Shayn Peirce-Cottler (University of Virginia)
Pre-Conference Meeting for Trainees
Organized by NAVBO Trainee Members: Mabruka Alfaidi, LSU Shreveport and Gustavo Oliveira de Paula, Albert Einstein College of Medicine
Featured speaker:
Tim Hla, Boston Children's Hospital

Award Presentations and Lectures
Earl P. Benditt Award Lecture
Prox1 and lymphatics, a personal perspective
Guillermo Oliver, Northwestern University
Judah Folkman Award in Vascular Biology Lecture
Endothelial dysfunction in coronavirus induced cardiopulmonary disease
Carlos Fernández-Hernando, Yale University School of Medicine


Springer Junior Investigator Award Lecture: TBD
Inaugural Presentation of the Stephen M. Schwartz Award: TBD


Joint Sessions
Vascular Therapeutics
Martijn Cox, Xeltis
Clinical translation of restorative polymer-based small diameter vessels
Laura Niklason, Yale School of Medicine
Engineering arterial and pulmonary vasculature
Toshiharu Shinoka, Nationwide Children's Hospital
Clinical experience of tissue engineered vascular grafts in children

Closing Joint Session: Mechanotransduction
Ellie Tzima, University of Oxford
The moonlighting mechanosensor
Dianna Milewicz, Texas Heart Institute
Role of mechanotransduction in acute aortic dissections
Kairbaan Hodivala-Dilke, Barts and the London School of Medicine and Dentistry 
Controlling Cancer by targeting non-angiogenic functions of blood vessels
Walter Lee Murfee, University of Florida
Questioning the influence of shear stress during capillary sprouting  
Nano-Talks
There will be 12 presentations, each consisting of five slides in five minutes. These are based on submissions solicited in the month leading up to the meeting; they will cover the hottest and newest topics.
Vascular Biology
October 25-29, 2021
Online Event
Featuring:
Developmental Vascular Biology and Genetics Workshop VII
Vascular Matrix Biology and Bioengineering Workshop VI
Symposia from the Microcirculatory Society (MCS)
Registration fees:
Virtual Meeting Pricing - 
Members (NAVBO and MCS):
Regular and Emeritus Members: Early bird: $225/ After September 15: $275
Trainee/Student Members: $150/$175
Non-members:
All non-members: Early bird: $350/ After September 15: $425*
*includes complimentary membership in NAVBO through December 31, 2021. Join NAVBO and save on registration.
Cancellation Policy:
Since this is a virtual meeting and recordings will be available for some time after the meeting, cancellations will not be accepted.
To register by check or offline, download the registration form - Registration Form
Please register by October 22, although you can continue to register past the meeting in order to gain access to the recordings.
If you prefer to pay with a check - complete and submit a paper registration form and mail it to:
NAVBO
18501 Kingshill Road
Germantown, MD 20874-2211
Trainee presenters will be eligible for the following awards:
Best Talk Awards
for trainees only (students and postdocs)
based on presentations made
meeting organizers will select the best presentations
There will be up to 8 awards at $500 each for presenters of short talks with the meeting sessions
There will also be a Best Nano-talk award
The recipients will be announced at the start of the Benditt Award the following week (November 2 at 1:00pmET)
Outstanding ePoster Awards
for trainees only (students and postdocs)
based on ePoster presentation with audio narration (

not

the poster session)
ePosters must include the audio narration by October 11 to be ineligible for the award
Judges will not consider an ePoster if there is no audio narration
There will be up to 20 awards at $250 each for ePoster presenters
The recipients will be announced at the start of the Folkman Award on November 4 at 1:00pmET
Vascular Biology 2021
Featuring:
Developmental Vascular Biology and Genetics Workshop VII
and
Vascular Matrix Biology and Bioengineering Workshop VI
Online: October 25-29, 2021
We are no longer accepting abstracts
As you know, we have decided to make Vascular Biology a fully virtual event.  It will be held October 25-29, 2021.
We are still accepting abstracts for ePoster only  - those that submitted an abstract for oral presentation, their abstracts are being reviewed for inclusion in the program.  Unfortunately, we will have less time for short talks in the virtual program - HOWEVER - all abstracts not presented as a talk within Vascular Biology 2021 will be considered for inclusion in a future NAVBO Focus Session (these will begin in November)  
ePoster Templates -
You can begin to construct your poster now.  Information regarding uploading your ePoster will be sent to you. Instructions for ePosters can be found here.
You may submit more than one abstract, however, the same abstract may not be submitted to more than one topic.
The organizers will attempt to program all submitted abstracts. NAVBO reserves the right to reject any abstract. Authors should indicate their preference for either poster, oral presentation or ePoster; however, due to the limited number of slots within oral sessions, most abstracts will be programmed for poster presentation.  If you are not able to attend the meeting, your abstract will be an ePoster and you will participate in our Virtual Poster Sessions.
Use Arial font, 10 point
Abstract titles are limited to 200 characters (including spaces)
Abstracts are limited to 1,750 characters (including spaces)
DO NOT include the title, authors or author affiliations in the body of the abstract
Enter each co-author into the database, be consistent with affiliations and include co-authors' emails, cities, states and countries
Topic Categories:
Developmental Vascular Biology and Genetics:
Heterogeneity of the Vasculature
From Screens to Genes
Clonal Expansion of the Vasculature
Neurovascular Development
Blood Vessel and Lymphatic Malformations
Metabolic Requirements for Vascular Development
Developmental Dynamics of Adult Microvasculature (MCS session topic)
Vascular Matrix Biology and Bioengineering:
Vascular Matrix in Disease
Matrix Engineering
Patterning and Morphogenesis
Biomaterials and Vascular Therapeutics
Microfluidics (MCS session topic)
Matrix in Vascular Calcification
Systems Biology and Modeling
Vascular Therapeutics
Mechanotransduction
Vascular Biology (poster presentations):
Microcirculation
Physiological Vascular Function
Vascular Bioengineering
Vascular Cell Biology
Vascular Development
Vascular Diseases and Anomalies
Vascular Matrix Biology
Vascular Biology - Other