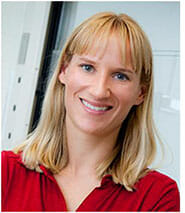 Elastic fibers and the mechanics of maturing arteries
JESSICA WAGENSEIL, D.SC.
Associate Professor
Director of PhD Studies
Mechanical Engineering and Materials Science
Washington University
St. Louis, MO
Recorded on April 5, 2018 at 1:00pm EDT
THIS WEBINAR IS BEING SPONSORED BY DMT
DMT is a life science company with more than thirty years of experience in development, manufacture and sale of hardware and software for ex vivo studies in physiology, pharmacology and toxicology.
We provide the needs of the user with first-class mechanical, electrical and software engineering to become one of the world leading designers and manufacturer of Wire, Pressure and Muscle Strip Myographs as well as Tissue Organ Bath Systems.
In this role driven by the requirements of our large global customer base, we also provide complete and integrated technologies including surgical, electrophysiological, pharmacological and physiological tools used by the research community and the pharmaceutical industry.
JESSICA WAGENSEIL -
Dr. Wagenseil is a biomedical engineer that studies the mechanics of large arteries in development and disease. She is specifically interested in diseases that affect the matrix proteins involved in elastic fiber assembly. She uses mice with elastic fiber defects to understand the interplay between matrix protein amounts and organization, arterial mechanics, hemodynamics, and cardiovascular function. She also uses mathematical models to predict arterial mechanics based on changes to the matrix proteins and hemodynamic stimuli. Find out more about Dr. Wagenseil and her lab at https://engineering.wustl.edu/Profiles/Pages/Jessica-Wagenseil.aspx
PRESENTATION - 
The presentation entitled, Elastic fibers and the mechanics of maturing arteries, is a more in-depth version of her presentation in the "Vascular Mechanics" session at Vascular Biology 2017 (Monterey, CA; October 15-19, 2017).
Elasticity of the large arteries is determined by the amount and quality of elastic fibers in the wall. Elastic fibers are composed of over 20 different proteins and the contribution of different proteins to arterial wall elasticity is largely unknown. We will present data on how arterial wall elasticity is affected by the loss of specific elastic fiber proteins in newborn and maturing mouse aorta and speculate on how these mechanical changes may lead to pathological remodeling in development and disease.
Much of this presentation will refer to her article in the Journal of Biomechanics, "Crosslinked elastic fibers are necessary for low energy loss in the ascending aorta" (2017 Aug 16;61:199-207. doi: 10.1016/j.jbiomech.2017.07.011. Epub 2017 Jul 25).  Here is a link to the abstract of the article.  If you have a subscription to the Journal of Biomechanics, you will have access to the full text.