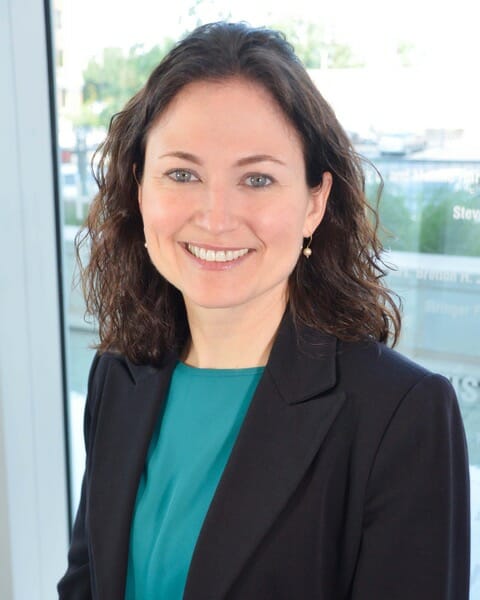 What Chromatin Remodelers Can Teach Us About Vascular Development and Integrity
COURTNEY GRIFFIN, PH.D.
Member
Cardiovascular Biology Research Program
Scientific Director
Oklahoma Medical Research Foundation
Took place on April 2, 2020 at 1:00pm EST
THIS WEBINAR IS BEING SPONSORED BY BIOSPHERIX

BioSpherix manufactures in vitro & in vivo equipment that helps researchers generate reproducible models with chronic hypoxia, intermittent hypoxia, nitric oxide, carbon monoxide, ozone, and physioxia. Visit BioSpherix and discover flexible options that match your budget, protocol, and space.
Cell Culture Chambers | Animal Chambers | Incubators | Hoods | Glove Boxes | Workstations
Visit their web site https://biospherix.com/vascular-research to learn more.
COURTNEY GRIFFIN -
Courtney Griffin was raised in Athens, GA. She earned her undergraduate degree in Biology at Harvard College in 1995 and her Ph.D. in Biomedical Sciences at the University of California San Francisco in 2001. During her graduate training, she became interested in vascular development and its implications for embryonic growth and for postnatal health and disease. She pursued postdoctoral training at the University of North Carolina at Chapel Hill, where she was exposed to the field of epigenetics. In 2008 she launched her own lab at the Oklahoma Medical Research Foundation (OMRF) in Oklahoma City studying the impact of epigenetics on vascular development. Her lab's research is generating novel insights into genes that regulate blood and lymphatic vessel identity and integrity. She is currently a full Member in the Cardiovascular Biology Research Program at OMRF and holds an Adjunct Professor position at the University of Oklahoma Health Sciences Center. She is also the Scientific Director of the Oklahoma Center for Adult Stem Cell Research and is active within NAVBO and the American Heart Association.
PRESENTATION -
Her lab is interested in the transcriptional regulation of genes that impact vascular development and integrity. Their long-term goal is to generate insights that can be exploited for developing therapeutic approaches to combat vascular pathologies. They take an unconventional approach toward identifying genes important for vascular biology by exploiting ATP-dependent chromatin-remodeling complexes. These complexes epigenetically modulate chromatin to facilitate transcriptional regulation of target genes. By generating mice with vascular-specific mutations in the catalytic subunits (ATPases) of these complexes, her lab discovers correlations between misregulated target genes and vascular phenotypes affecting endothelial cell morphology and behavior. This unique approach is yielding novel insights into genes and signaling pathways that have been overlooked or underappreciated within the vascular community, as she will highlight in this NAVBO Webinar.
References related to BRG1:
1. Griffin, C.T., Curtis, C.D., Davis, R.B., Muthukumar, V. and Magnuson, T. (2011) The chromatin-remodeling enzyme BRG1 modulates vascular Wnt signaling at two levels. Proceedings of the National Academy of Sciences USA, 108(6): 2282-2287.
https://www.ncbi.nlm.nih.gov/pubmed/21262838
2. Menendez, M.T., Ong, E-C., Shepherd, B.T., Muthukumar, V., Silasi-Mansat, R., Lupu, F., and Griffin, C.T. (2017) BRG1 promotes endothelial Mrtf transcription to maintain embryonic capillary integrity. Arteriosclerosis, Thrombosis, and Vascular Biology, 37(9): 1674-1682.
https://www.ncbi.nlm.nih.gov/pubmed/28729363
References related to CHD4:
1. Ingram, K.G., Curtis, C.D., Silasi-Mansat, R., Lupu, F., and Griffin, C.T. (2013) The NuRD chromatin-remodeling enzyme CHD4 promotes embryonic vascular integrity by transcriptionally regulating extracellular matrix proteolysis. PLOS Genetics, 9(12): e1004031.
https://www.ncbi.nlm.nih.gov/pubmed/24348274
2. Colijn, S., Gao, S., Ingram, K.G., Menendez, M., Muthukumar, V., Silasi-Mansat, R., Chmielewska, J.J., Hinsdale, M., Lupu, F., and Griffin, C.T. (2020) The NuRD chromatin-remodeling complex enzyme CHD4 prevents hypoxia-induced endothelial Ripk3 transcription and murine embryonic vascular rupture. Cell Death & Differentiation, 27(2): 618-631.
https://www.ncbi.nlm.nih.gov/pubmed/31235857
3. Crosswhite, P.L., Podsiadlowska, J., Curtis, C.D., Gao, S., Xia, L., Srinivasan, R.S., and Griffin, C.T. (2016) CHD4-regulated plasmin activation impacts lymphovenous hemostasis and hepatic vascular integrity. Journal of Clinical Investigation, 126(6): 2254-2266.
https://www.ncbi.nlm.nih.gov/pubmed/27140400