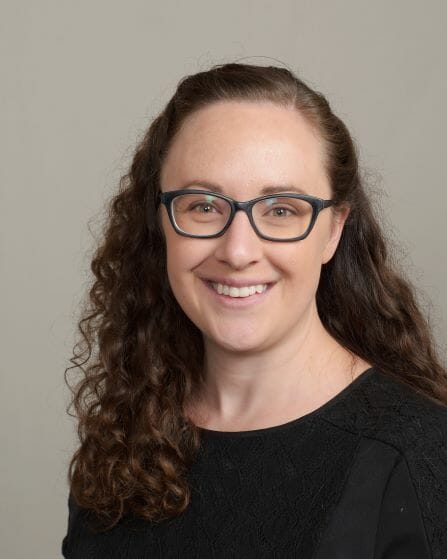 Essential Yet Transient: An Introduction to the Placental Circulatory System
MARY WALLINGFORD, PH.D.
Assistant Professor
Medical Infant Research Institute
Tufts Medical Center
Took place on June 11, 2020 at 1:00pm EST
MARY WALLINGFORD -
Mary Wallingford, PhD, is an Assistant Professor in the Division of Obstetrics and Gynecology at the Tufts University School of Medicine (TUSM) and a member of the TUSM Graduate School of Biomedical Sciences. In her graduate training Mary studied mammalian developmental in the lab of Jesse Mager at the University of Massachusetts. As her embryology research progressed Mary became interested in extraembryonic tissues that support the embryo during development, such as the yolk sac and the placenta. After graduating with a PhD in Animal Biotechnology and Biomedical Sciences from the Veterinary and Animal Science Department at UMass, Mary pursued postdoctoral training in vascular development and disease in the lab of Cecilia Giachelli at the University of Washington. Her goal was to bring this training back to the placenta research field. With support from a K99/R00 award from the NICHD, Mary has since established her new lab at Tufts Medical Center where she brings together her training in mammalian development and vascular biology to investigate fundamental questions about placental vascular development and disease. In addition to the NIH, the Wallingford Lab is supported by the AHA, the Beals Goodfellow Foundation, the Russo Family Foundation, and Tufts Medical Center.
PRESENTATION -
The overall goal of Mary's lab is to advance fundamental understanding of placenta development and disease in order to support the development of new diagnostic tools and treatment options that advance obstetric cardiovascular medicine. Extraembryonic tissues such as the yolk sac, umbilical cord, and placenta contain specialized blood vessels that develop early in pregnancy; the normal development and function of these vessels are critical for supporting mammalian growth and development. This webinar provides a foundation in vascular biology of the placenta, both mouse and human. Anatomy, physiology, and developmental paradigms are presented along with a brief description of open questions and tools that are available for placenta research.
SPECIAL GUEST - HEIDI STUHLMANN
Heidi Stuhlmann, Ph.D.
Professor, Department of Cell & Developmental Biology
Harvey Klein Professor of Biomedical Sciences
Weill Cornell Medicine
Weill Cornell Medical College
PRESENTATION - 
Fetoplacental vasculature in development and disease
The placenta provides the interface between the fetal and maternal circulatory systems during pregnancy, performing essential gas and nutrient exchange, as well as immunological and endocrine functions that are crucial for mammalian embryonic development. Defects in proper development can result in placental pathologies, including pre-eclampsia and intra-uterine growth restriction which are the leading causes of maternal and fetal morbidity and mortality.