Assistant Professor
Pathology and Laboratory Medicine
Feil Family Brain and Mind Research Institute
Weill Cornell Medicine
New York, NY
Primary Research:

Severe endothelial dysfunction plays a critical role in organ failure and death in numerous clinical settings. In cerebrovascular diseases and central nervous system pathologies, blood-brain barrier dysfunction contributes to the exacerbation of neuronal injury; during sepsis and systemic inflammatory response syndrome, vascular leakage and disseminated intravascular coagulation lead to tissue hypoxia, multiple organ dysfunction and death. Although the therapeutic potential of the endothelium to treat these conditions is beginning to be appreciated, the poor understanding of the endothelial-specific molecular mechanisms governing vascular dysfunction is a critical barrier blocking the progress toward developing novel endothelial-targeted therapies for these highly unmet clinical needs. Compared to other therapeutic approaches, aim at broadly suppressing the inflammatory response, the therapeutic targeting of the endothelium has the potential to improve organ function and clinical outcomes without compromising the immune response, which is pivotal in patients suffering from critical illnesses, but also chronic diseases.
Our laboratory investigates the molecular mechanisms governing endothelial dysfunction in various pathological conditions such as cerebrovascular diseases (e.g. ischemic stroke, subarachnoid hemorrhage) and sepsis. In our research, we use i) clinically relevant animal models of stroke and systemic inflammatory response syndrome, ii) global and tissue-specific genetically engineered mice, iii) assays to assess vascular and neuronal function, and iv) methods to determine the molecular alterations in microvessels in disease models. We also conduct studies with human tissues to investigate the potential pathophysiological relevance of our animal findings in human disease. Our long-term goal is to identify endothelial pathways which could be targeted to restore endothelial function, prevent secondary tissue injury and promote repair in various diseases without compromising the immune response.
By using this multidisciplinary approach, our laboratory has identified the critical role of sphingolipid signaling in endothelial function. Sphingosine-1-phosphate, a bioactive sphingolipid very abundant in plasma and produced by endothelial cells, signals via interaction with its G protein-coupled receptors, S1PR. We found that sphingosine-1-phosphate receptors, S1PR1 and S1PR2, potently and differentially regulate endothelial function and endothelial responses to injury. While S1PR1 is an endogenous protective signaling pathway in the endothelium, S1PR2 induces vascular leakage and endothelial inflammation during sepsis and stroke. We also found that these two receptors are detected in the endothelium in human tissues, including brain, and that S1PR2 is induced in mouse cerebral microvessels after ischemia, hypoxia and inflammation and also upregulated in human stroke.
Current efforts in our laboratory are aimed at investigating the molecular mechanisms governing sphingolipid signaling in microvessels, devising novel strategies to target the sphingolipid pathway in vascular cells and investigating novel translationally relevant pathways governing cerebral microvascular dysfunction in various pathological conditions.
Laboratory Website:
https://vivo.weill.cornell.edu/display/cwid-tes2015
Members of the laboratory:
Sabyasachi Das, PhD, Postdoctoral Fellow
Daiki Aburakawa, MD, PhD, Postdoctoral FellowAnne Khodarkovskaya, Research Assitsant
Amanda Lopez, Research Assistant
Zonayed Abedin, Student, High School Catalyst Program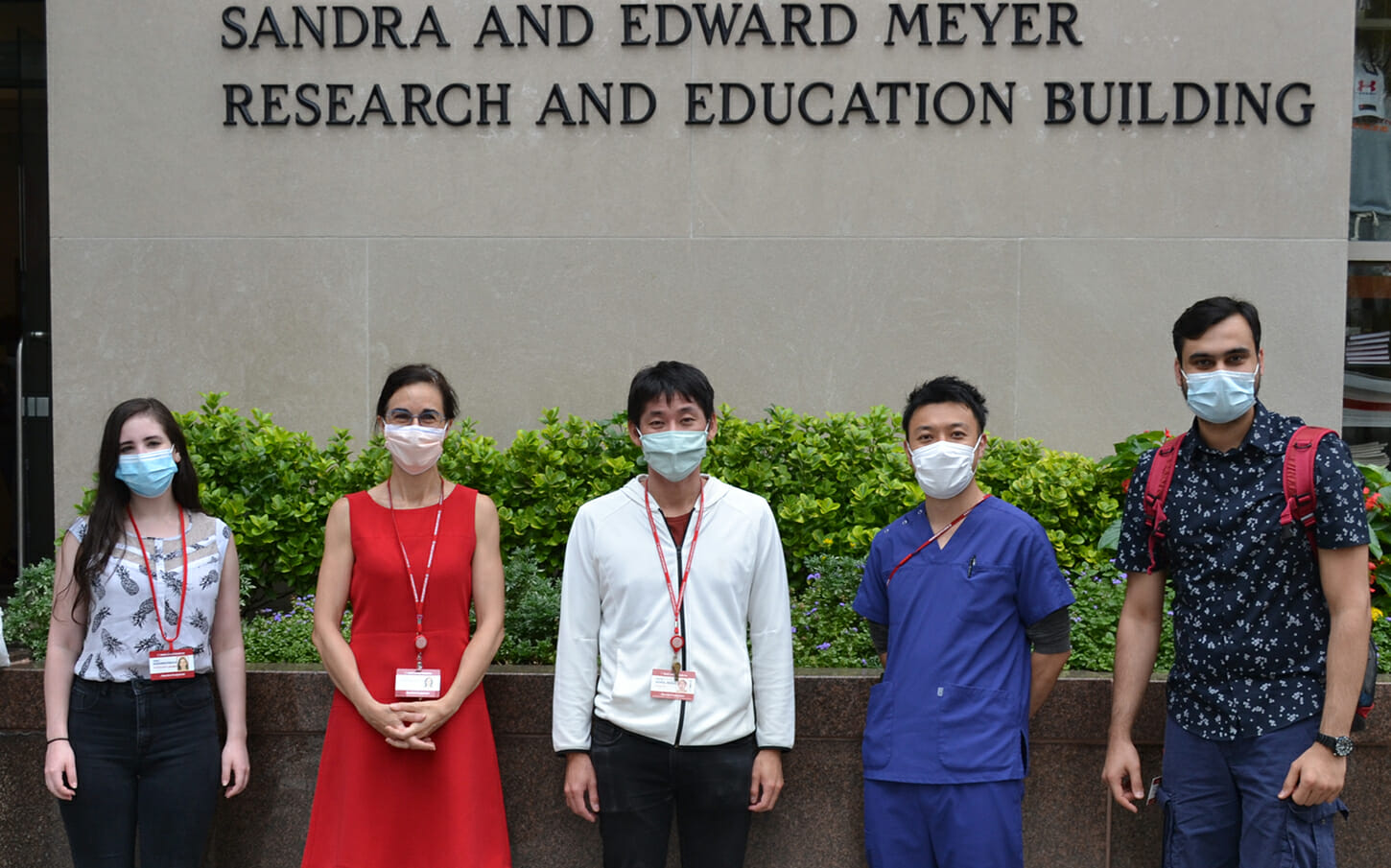 Recent Publications:

Zhang, G., Yang, L., Kim, G.S., Ryan, K.P., Lu, S., O'Donnell, R., Spokes, K., Aird, W.C., Shapiro, N., Yano, K., & Sanchez, T. (2013). Critical Role of Sphingosine-1-Phosphate Receptor-2 in Acute Vascular Inflammation. Blood. 122(3), 443-455. PMCID: PMC3716205 (commented in SciBX: Science-Business eXchange, 2013.668).
Kim, G.S., Yang, L., Zhang, G., Zhao, H., Selim, M., McCullough, L.D., Kluk, M.J., & Sanchez, T. (2015). Critical role of sphingosine-1-phosphate receptor-2 in the disruption of cerebrovascular integrity in experimental stroke. Nature Communications. 6, 7893. PMCID: PMC4587559.
Sanchez T. (2016). Sphingosine 1-Phosphate Signaling in Endothelial Disorders. Current Atherosclerosis Reports. 6:31 (Invited Review).
Yanagida, K., Liu, C.H., Faraco, G., Galvani, S., Smith, H.K., Burg, N., Anrather, J., Sanchez, T., Iadecola, C., Hla, T. (2017) Size-selective opening of the blood-brain barrier by targeting endothelial sphingosine 1-phosphate receptor 1. Proc Natl Acad Sci U S A. 114(17):4531-4536. PMCID: PMC5410849.
Swendeman, S.L., Xiong, Y., Cantalupo, A., Yuan, H., Burg, N., Hisano, Y., Cartier, A., Liu, C.H., Engelbrecht, E., Blaho, V., Zhang, Y., Yanagida, K., Galvani, S., Obinata, H., Salmon, J.E., Sanchez, T., Di Lorenzo, A., Hla, T. (2017) An engineered S1P chaperone attenuates hypertension and ischemic injury. Science Signaling. 10(492). PMCID: PMC5680089.
Lee, YK, Uchida, H, Smith, HK, Ito, A and Sanchez, T. (2019) The isolation and molecular characterization of cerebral microvessels. Nature Protocols. 14(11): 3059-3081.
Collaborative Relationships:
Dr. William Aird, Harvard Medical School
Dr. Josef Anrather, Weill Cornell Medicine
Dr. Eric Camerer, Paris Cardiovascular Research Institute, INSERM
Dr. Annarita di Lorenzo, Weill Cornell Medicine
Dr. Giuseppe Faraco, Weill Cornell Medicine
Dr. Lidia Garcia-Bonilla, Weill Cornell Medicine
Dr. Timothy Hla, Harvard Medicine School
Dr. Costantino Iadecola, Weill Cornell Medicine
Dr. Michael Kluk, Weill Cornell Medicine
Dr. Ivo Lorenz, Tri-Institutional Therapeutics Discovery Institute
Dr. Louise McCullough, McGovern Medical School
Dr. Peter Meinke, Tri-Institutional Therapeutics Discover Institute
Dr. Rick Proia, NIDDK, NIH
Dr. Chris Schaffer, Cornell University
Dr. Madgy Selim, Harvard Medical School
Dr. Nate Shapiro, Harvard Medical School