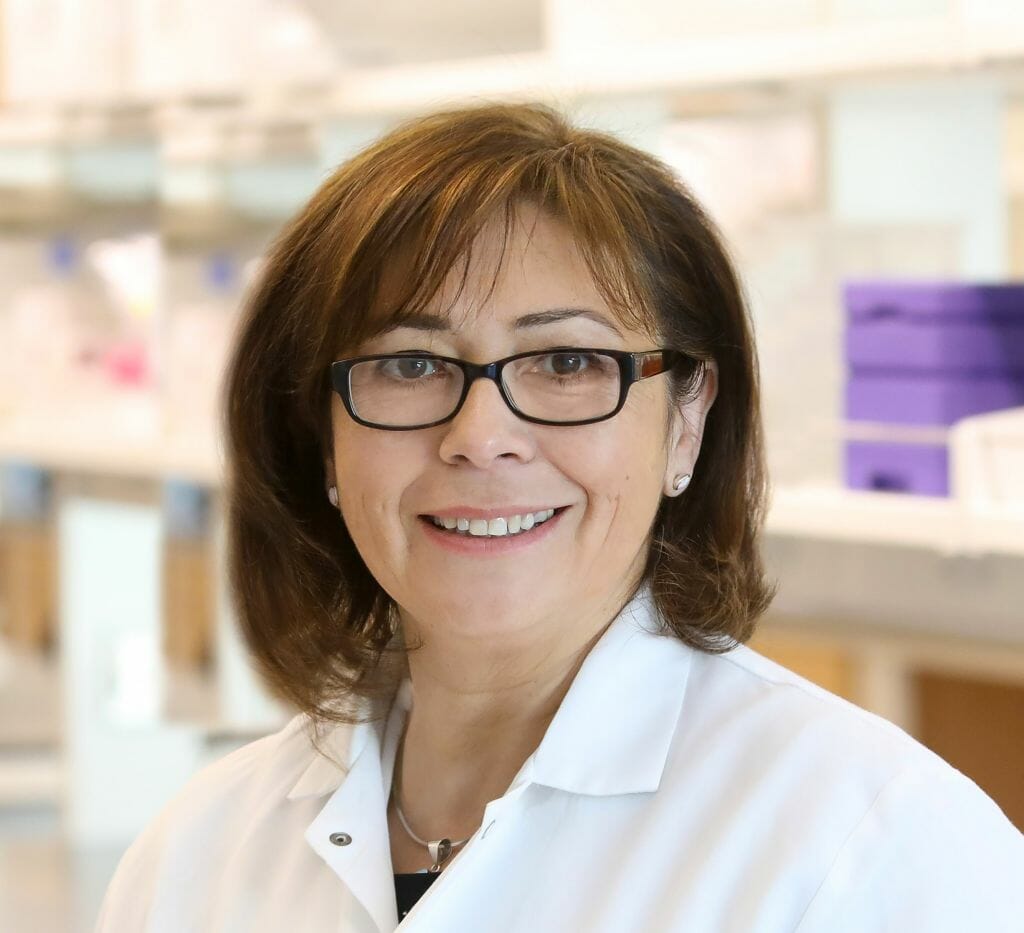 Reflecting on the power of cell-cell interactions with a Notch-centric focus
LUISA IRUELA-ARISPE, PH.D.
Stephen Walter Ranson Professor and Chair
Department of Cell and Developmental Biology
Northwestern University
Took place on December 3, 2020 at 1:00pm EST
LUISA IRUELA-ARISPE -
Born in Spain and growing for most of her young life in Argentina and Brazil, Luisa moved to the US (University of Washington, Seattle) to perform the experimental part of her thesis in the late 80s. After completing her Ph.D. and post-doctoral training, she joined Harvard Medical School as Assistant Professor in the Department of Pathology. In 1998, she moved to UCLA where she ascended through the professorial ranks culminating in Distinguished Professor in Molecular, Cell and Developmental Biology. At UCLA she became the first women to direct the prestigious Molecular Biology Institute and also chaired the Interdepartmental Molecular Biology Graduate program. Dr. Luisa Iruela-Arispe was president of NAVBO in 2006-2007 and organized many meetings, including the IVBM in 2010. In 2009, she received the inaugural Judah Folkman Award. Currently she is Chair of Department of Cell and Developmental Biology at Feinberg School of Medicine, Northwestern University in Chicago.
Her research has centered in elucidating the mechanisms that regulate the growth, specification and remodeling of blood vessels. Along these lines, her laboratory has contributed to the literature of extracellular matrix proteins as regulators of angiogenesis; broadened knowledge on VEGF and Notch signaling and evaluated the relevance of endothelial-hematopoietic cell interactions, including the definitive demonstration that hematopoietic progenitors emerge from the endothelium.
PRESENTATION -
Through homotypic cell-cell interactions, the Notch pathway is well known to direct tip/stalk cell specification during angiogenesis. However, the impact of this signaling pathway expands well beyond this important function to include broad and multiple roles such as, smooth muscle cell recruitment and specification, endothelial-mesenchymal transition and organotypic organization. I will discuss experiments that allowed us to elucidate some of these functions and more recent uncovered roles of Notch signaling in sensing and responding to shear stress.
Links to related manuscripts:
https://pubmed.ncbi.nlm.nih.gov/29158473/
https://pubmed.ncbi.nlm.nih.gov/26552708/
https://pubmed.ncbi.nlm.nih.gov/25535917/
https://pubmed.ncbi.nlm.nih.gov/23690447/
https://pubmed.ncbi.nlm.nih.gov/23095891/
https://pubmed.ncbi.nlm.nih.gov/22134168/
https://pubmed.ncbi.nlm.nih.gov/21062863/
https://pubmed.ncbi.nlm.nih.gov/17556669/
https://pubmed.ncbi.nlm.nih.gov/17259973/
https://pubmed.ncbi.nlm.nih.gov/11578869/