Associate Professor
Fralin Biomedical Research Institute
Department of Biomedical Engineering & Mechanics
Virginia Tech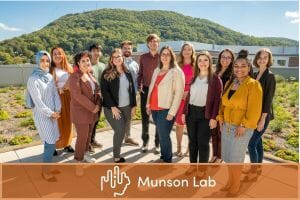 Primary Research:
The Munson Lab develops methods to measure, model and manipulate flow, with the goal to understand how interstitial fluid flow, the flow within the extracellular spaces of tissues, contributes to physiological and pathological processes. We have created MRI and intravital imaging methods to map interstitial fluid flow in brain cancers and Alzheimer's Disease. We develop patient-designed 3D tissue engineered systems to model brain and breast cancer, lymphatics and lymph nodes, and brain coupled with commercial and custom microfluidic systems to test the effects of flow and probe underlying mechanisms that affect cellular activation and migration. We have also leveraged and developed methods to alter interstitial fluid flow through direct physical methods and pharmacological interventions targeting the lymphatic system. In all, our goal is to work at the translational interface and keep our work relevant to the clinic by collaborating with scientists and clinicians in multiple fields so that we develop tools and methods that are useful for the study of disease and testing and development of new therapeutics.
Laboratory web site URL:
www.munsonlab.com
Collaborative Relationships:
We work with City of Hope on translational projects in CAR T cell therapy for glioma, the University of Virginia on novel models of the lymph node and on Alzheimer's Disease, Temple University to study tissue transport in lipedema, Carilion Clinic in Roanoke, the Veterinary Cancer Care Center at Virginia Tech, and the Wake Forest Comprehensive Cancer Center on patient-based models of cancer and translational brain tumor research, and many others that are in early stages of development.