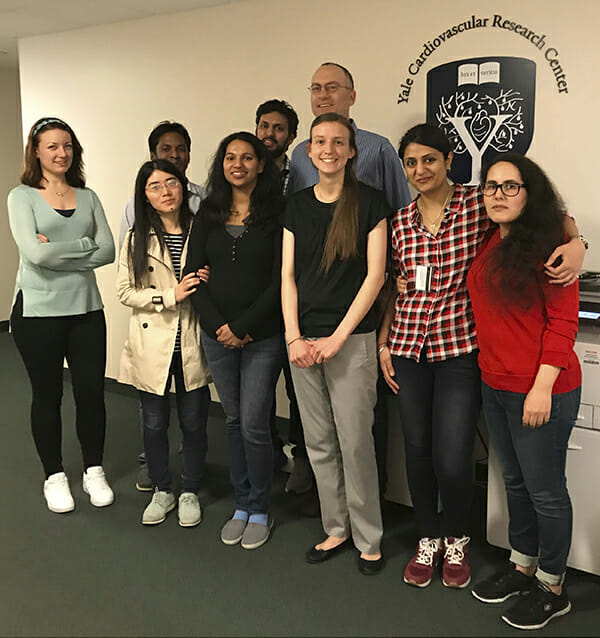 Pericyte ALK5/TIMP3 Axis Contributes to Endothelial Morphogenesis in the Developing Brain
DANIEL GREIF, M.D.
Associate Professor Term
Internal Medicine: Cardiovascular Medicine: Yale Cardiovascular Research Center
Genetics
Vascular Biology and Therapeutics Program
Yale Combined Program in the Biological and Biomedical Sciences (BBS): Molecular Cell Biology, Genetics and Development
Took place on June 13, 2019 at 1:00pm EDT
DANIEL GREIF -
Daniel Greif graduated with a B.S. in chemical engineering from Stanford University and a M.D. from University of California San Francisco. He trained in internal medicine at University of Washington and Brigham & Women's Hospital at Harvard University and in cardiovascular medicine at Stanford. Dan trained in the labs of F. William Luscinskas and Thomas Michel at Harvard and in the lab of Mark Krasnow at Stanford and the Howard Hughes Medical Institute. In October 2010, Dan joined the faculty and started his independent lab at Yale University and has risen to the rank of Associate Professor in the Departments of Medicine and Genetics. Dan received the Springer Junior Investigator Award from the North American Vascular Biology Organization in 2015 and an Established Investigator Award from the American Heart Association in 2019 and was elected to the American Society of Clinical Investigation in 2018. His laboratory focuses on vascular mural cells and myofibroblasts in development and diseases of the blood vessels and of the lungs.
PRESENTATION - 
The murine embryonic blood-brain barrier (BBB) consists of endothelial cells (ECs), pericytes (PCs) and basement membrane. Although PCs are critical for inducing vascular stability, signaling pathways in PCs that regulate EC morphogenesis during BBB development remain unexplored. Herein, we find that murine embryos lacking the TGFβ receptor activin receptor-like kinase 5 (Alk5) in brain PCs (mutants) develop gross germinal matrix hemorrhage-intraventricular hemorrhage (GMH-IVH). The germinal matrix (GM) is a highly vascularized structure rich in neuronal and glial precursors. We show that GM microvessels of mutants display abnormal dilation, reduced PC coverage, EC hyperproliferation, reduced basement membrane collagen and enhanced perivascular matrix metalloproteinase activity. Furthermore, ALK5-depleted PCs down-regulate tissue inhibitor of matrix metalloproteinase 3 (TIMP3), and TIMP3 administration to mutants improves endothelial morphogenesis and attenuates GMH-IVH. Overall, our findings reveal a key role for PC ALK5 in regulating brain endothelial morphogenesis and a substantial therapeutic potential for TIMP3 during GMH-IVH.
Paper related to this work are: